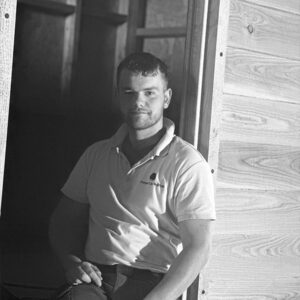 Hi am Dexter Buxton Director here at Premier Oak Buildings. 

Having been actively involved in carpentry from a young age I have been helping people
build their dream homes for over 10 years.
My career in oak timber framing began as an apprentice but soon advanced to workshop manager and gaining a full understanding of the trade.The plan to launch Premier Oak Buildings began by recognizing that there is more to oak timber frames than simply cutting joints and erecting a frame.
How I work
Understanding what people want from an oak framed building is vitally important to the entire process. Helping people build their dream home is what makes me tick. But it is not only new homes we also build oak garages, oak framed porches, and timber frame extensions. All of these require the same level of attention and planning from the initial stages of design to the final stage of construction.  Our team can help guide you through a choice of design for your build and create drawings to help you visualise your dream.  We liaise with architects and contractors to ensure that they incorporate your oak frame in the best way for your build. The idea is to give you the aesthetic you want in the best way possible.
I have been lucky enough to construct timber frames throughout the UK and have travelled all over the United Kingdom from Cornwall to Kent, Norfolk to Shropshire and further north from Nottinghamshire,
Cheshire and beyond. Not many people can say that they have found their true vocation in life. Happily I am one of those.
Premier Oak Buildings was launched because  I love to build with oak. I enjoy the challenges it has to offer and the complexity of timber frame construction. Collaborating with clients, architects, and engineers in the process of design is fantastic.  Problem solving to bring the building to life and fulfil someone's dream is great.
I feel lucky enough to have found my true passion at an early age and would like to join you in building your legacy that will last for decades and even centuries to come.